If you're thinking about moving to Florida, then you're probably envisioning sunny days, beautiful beaches, golf, tennis, horseback riding and a variety of other outdoor pursuits.
You also might be wondering whether or not living in such an idyllic place can ever be affordable especially in our current market. The reality is that Florida includes several cities that are surprisingly affordable. In addition, these cities offer strong job markets, beautiful neighborhoods, great schools and impressively high standards of living.
Let's learn more about these beautiful communities.
Jacksonville, FL
Just to the south of the state line with Georgia sits Jacksonville. If you're measuring by land area, Jacksonville is the largest city in the contiguous United States. Thanks to the presence of a number of beaches, it's quick and convenient to travel from the bustling downtown to the beautiful beaches.
People who choose Jacksonville get all the perks and advantages of living in a big-city atmosphere. There are tons of things to do, and the job market is booming. Of course, like all big cities, there are some neighborhoods in which crime is prevalent. Also, because of the growing population, you can expect longer commutes and more traffic.
Aside from these drawbacks, Jacksonville is a fantastic place to live. It's Florida's financial and commercial center, and the downtown neighborhood is thriving. A wealth of quiet, well-designed suburban neighborhoods provide plenty of options that range from the ultra-affordable to multi-million dollar mansions.
Moreover, Jacksonville consistently is ranked as one of the best cities for engaging in outdoor activities. It boasts numerous parks and state forests in addition to many beaches. Some of the most popular stretches of coastline in the region include Jacksonville Beach, Neptune Beach and Atlantic Beach.
With a cost of living that is about six-and-a-half percent more affordable than anywhere else in the U.S., it's easy to see why so many people are considering a move to Jacksonville. It's helpful that there are so many trendy, up-and-coming neighborhoods in the city. Some of the most popular are San Marco, Five Points, Riverside and Springfield.
We also have a great blog outlining the 6 best neighborhoods in Jacksonville.
Ocala, FL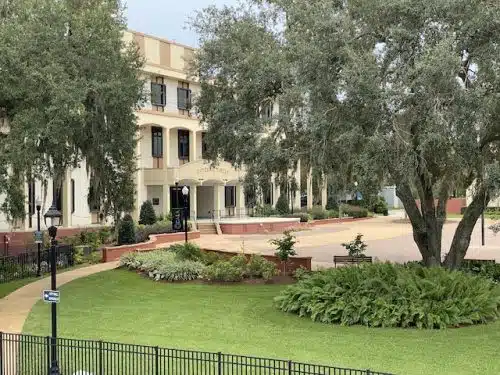 This lovely inland city, which is known as the Horse Capital of the World, is an idyllic place to call home. It also features some incredibly beautiful yet affordable properties, many of which come with extensive acreage.
Despite its burgeoning size, Ocala still manages to retain a small-town feel that is enormously attractive to residents. The neighbors are friendly, and low crime rates are the norm across the city. It doesn't have the same type of nightlife that may be found in larger cities, but for people who are focused on nature, parks and wildlife, it's a perfect place to call home.
Ocala has a fantastic downtown district and a lively arts and cultural scene. There's always plenty to do, and beaches as well as bigger cities easily can be reached by car.
US News and World Report routinely names Ocala to its Best Places to Live list based on the availability of activities like golf and tennis as well as its natural attractions. The publication also notes the city's low cost of living and affordable home prices. Ocala further is a great place to work, with companies like AutoZone, Chewy and FedEx all having opened sizable distribution centers here in recent years. Ocala even boasts outstanding public and private schools.
Neighborhoods in Ocala are quiet and tree-lined. It resembles Southern cities rather than a Florida beach town. Some of the most desirable and popular neighborhoods include Meadow Wood Farms, Maricamp, Downtown and Westbury.
Being experts in the area, we have written a blog about the best areas in Ocala.
Gainesville, FL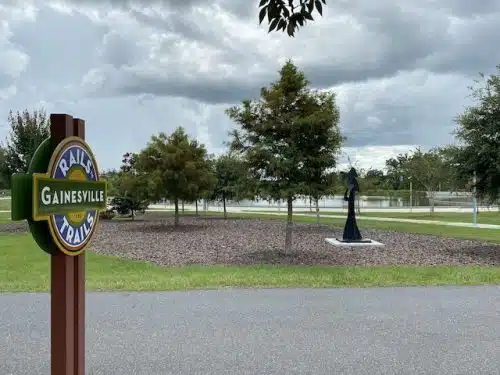 As a college town, Gainesville is a great place to live if you're looking for plenty of youthful energy and excitement. The cost of living is attractively low, and the city's central location is certainly a big selling point.
There is sometimes a shortage of available real estate with so much of the market being centered on student housing, and the weather can get very hot and humid. However, for the people who love all of the activity that comes with living in a college town, these drawbacks are no hindrance.
Gainesville really is ideally located in the center of the state. Reaching large cities like Orlando or Jacksonville is possible with a two-hour drive, and the beaches are just as close.
Of course, the center of activity in Gainesville is the University of Florida. The Florida Gators play a wide variety of sports throughout the year, and with museums, the arts and cultural performances, there is always something fun happening.
Downtown Gainesville is another great place to spend time. It boasts plenty of live theater venues, restaurants, bars and shops. The outdoors also has numerous attractions including forests and lakes.
The cost of living is affordable here, and the public transportation system is excellent. Duckpond is the city's oldest and most venerated neighborhood, but you can still buy an inexpensive home here. Other attractive options include Haile Plantation, Suburban Heights, University Park and Pleasant Street Historic District.
Another great blog about the 9 best neighborhoods in Gainesville.
St. Augustine, FL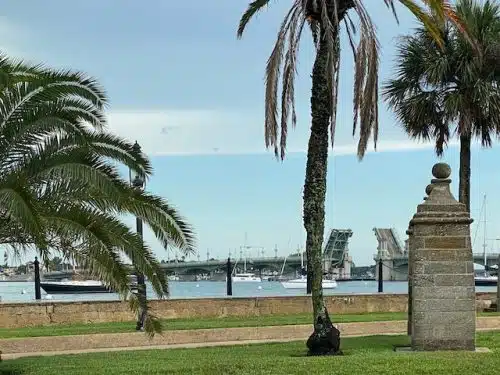 A center of culture and history, St. Augustine boasts one of Florida's most charming downtown areas and fascinating museums. The beaches are fantastic, and you'll certainly find that the cost of living is competitive when compared with other Florida cities.
You will have to contend with a lot of tourists in St. Augustine, but you can hardly blame them. This is an incredibly scenic and interesting destination. Plenty of publications have named this community as one of the best places to live in America as well as one of America's most beautiful towns.
In the memorable and gorgeous downtown, you'll find 144 square blocks filled with quaint coffee shops, cozy bars, delectable restaurants and unique shops. Live music spills out into the streets, and it seems like there's a historic site on every corner. With plenty of theater and arts venues as well, there is something for everyone in St. Augustine.
The city has a booming job market with some of the largest employers including Amazon, Bank of America, Mayo Clinic and Fidelity Investments.
If you're looking for a neighborhood in St. Augustine, consider top options such as Picolata, Mizell Road, Butler Beach, Dupont Center and Elwood Whites Ford.
The best areas to live in St. Augustine.
Learn More with Florida's Choice Realty
Are you ready to call one of the best affordable areas in Florida your new home? Jacksonville, Ocala, Gainesville, St. Augustine and others all offer outstanding neighborhoods with homes that are incredibly affordable.
Let the experts at Florida's Choice Realty introduce you to these and other beautiful Florida cities. Our intimate knowledge of the local real estate market makes us the obvious choice when you're ready to buy a home.