What makes Ocala such a fantastic place to live?
It turns out that there are many reasons why people love to call this city home. Keep reading to learn more about this vibrant corner of Florida.
This region has been known for centuries as a wonderful place to live. It began with the Timucua Indians. When Hernando de Soto, a Spanish conquistador, arrived in 1539, he noted that the Timucuas had a large chiefdom centered between Florida's East and West Coasts that they called "Ocali."

Unfortunately, the Spanish brought diseases that decimated the Timucua population. By the 19th century, the area was the site of Fort King. The mandate of the fort was to protect the area against incursions by the Seminole Indians. It was abandoned in the 1840s when the threat of attacks was suppressed, making room for even more settlers.

The mid-nineteenth century was an advantageous time to settle in the region thanks to the Florida Armed Occupation Act of 1842. Any settler capable of clearing five aces of land could live there, free of charge, for five years.

Marion County was established in 1844, with Ocala being created in 1849. Agriculture was the main industry, but it was horses that would put the region on the map. That tradition remains strong to this day.
In Ocala, you have the opportunity to experience the heart-pounding excitement of the Canyons Zip Line, but if you're looking for something less adventurous, then take in the HITS horse show, a show jumping circuit that settles here each winter.

Another must-do activity is to visit the local farms for an agri-tour or a u-pick experience. From blueberries to oranges, a variety of crops is grown here, giving you a chance to sample produce that's fresh from the bush or tree.

Ocala also is a place where you can experience culture and history. Tour the Appleton Museum of Art to view priceless paintings and sculptures. Art classes are offered too. Or, perhaps you'll make an outing to the Fort King National Historic Landmark where you can see artifacts and explore restored wooden structures.

You'll also want to make time for the shops, restaurants and events that happen in downtown. This is where First Friday Art Walks happen and where people come to celebrate the holidays.
Ocala's parks and springs are major attractions for outdoor lovers. Visit the Ocala National Forest with its hiking and biking trails and more than 80 square miles of waterways and springs.

Rainbow Springs State Park is another popular destination for enjoying opportunities to paddle, tube, snorkel and swim. With interpretive exhibits, playgrounds and gardens, there's something for everyone.
Today, Florida is known as a major tourist destination. However, most people are not aware that one of the state's earliest tourist attractions is located right here in Ocala.
Silver Springs, now a popular state park, is probably the most well-known spring in the county, and for good reason.
Experts believe it is among the largest artesian springs in the world. Accordingly, this is a popular park to enjoy a leisurely stroll or to indulge in a paddle with canoe and kayak rentals.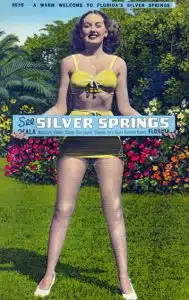 Visitors actually started coming here in the Civil War era, and the site has been used in numerous films, including a series of Tarzan movies in the 1930s and 1940s and for The Creature from the Black Lagoon in 1954.
Be certain to take a cruise on one of the glass bottom boats as well. It's a unique experience that lets you view manatees, fish, sunken vessels and more without getting wet.
Horse Capital of the World
You don't have to spend much time in Ocala to learn why it's known as the Horse Capital of the World. This is prime horse country with miles of green, rolling pastureland. It's why several racehorses have been bred and trained here. Some examples include Needles, the winner of the 1956 Kentucky Derby, Affirmed, winner of the 1978 Triple Crown, and American Pharoah, the 2015 winner of the Triple Crown.

If you'd like to get in on the horse lifestyle, then this is the perfect place to be. You can own a ranch or find a world-class stable to house your mount. Perhaps you'll simply opt to enjoy the BG Ocala Ranch Trail Rides or attend Equiventures at the Ocala Jockey Club.
Ocala truly is an incredible place to call home. One of the foremost reasons for this is the quality of the available properties in the region. Whether you are looking for a convenient condominium or a sprawling estate on a dozen acres, chances are good that you'll be able to find it in Ocala.

The best way to get more familiar with the area and its real estate is to work with an experienced and knowledgeable Realtor like the professionals at Florida's Choice Realty. Contact us today to get acquainted with Ocala and its neighboring communities.