Gainesville is one of Florida's best cities, offering an excellent standard of living in stunning natural surroundings. It's also the home of the University of Florida, making it a vibrant and bustling community. Nonetheless, there are some quieter suburban neighborhoods that help residents feel like the city is miles away.
Which Gainesville neighborhood is right for your family? Keep reading to learn more about the nine best neighborhoods in Gainesville.
1. Flint Rock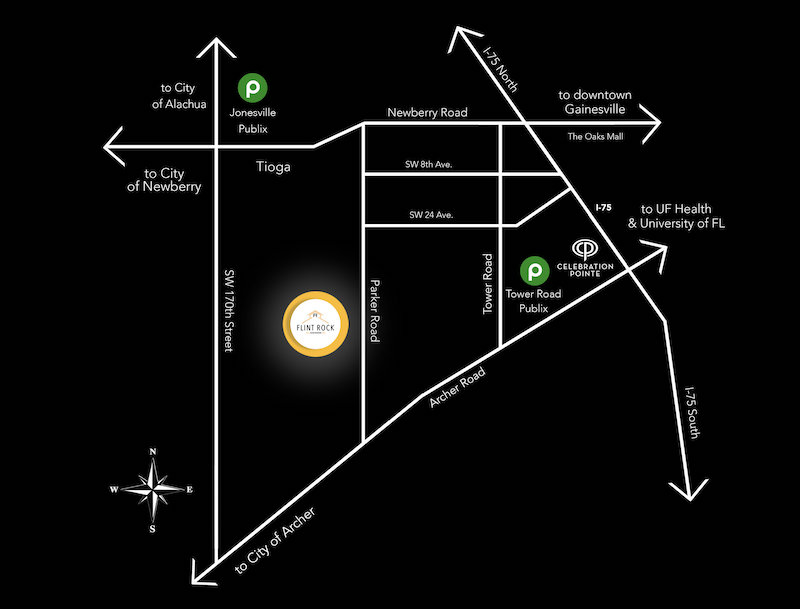 Have you heard about one of the city's newest neighborhoods? Actually, the developers bill it as an "Agrihood" because it's unlike any of the other surrounding areas. Flint Rock recently donated an easement to the Alachua Conservation Trust as part of its development. This, combined with more than 100 acres of dedicated common areas and green spaces, means that 63 percent of the development's 400 acres will be maintained as natural or wild.
Some of that green space will be a wildlife corridor, making this an exceptional place to live. Along with all of that natural beauty are three small subdivisions, each of which is designed to promote wellness and healthy lifestyles. Neighborhood amenities include mile after mile of walking trails, many of which go through forests of fruit trees, a farmhouse and event barn for hosting parties, numerous fire pit areas and hanging bench swings.
Located conveniently close to I-75, these new, single-family luxury homes are ideal for commuters and families who want to enjoy a little bit of the country in the midst of a well-developed area.
Flint Rock Property For Sale
2. University Park
This is one of Gainesville's most bustling neighborhoods as it sits immediately to the north of the campus of the University of Florida. Accordingly, residents will find all sorts of casual eating options as well as bars and nightclubs. The presence of the university also means that there are many opportunities for employment, education, shopping and obtaining outstanding medical care within the neighborhood.
If your family is really into college sports, especially football, then this may be the perfect neighborhood for you. Although this is a centrally located spot in a well-developed area, there are still opportunities to enjoy the outdoors at attractions such as the Paynes Prairie Reserve and the Kanapaha Botanical Gardens.
Many top attractions and activities in this neighborhood are within easy walking distance. The nearby college campus includes the Florida Museum of Natural History, a golf course, Lake Alice and much more.
As you might expect with a university neighborhood, there are many apartments in the area. However, you'll also find plenty of condos and single-family dwellings. A good mix of old and new construction is found in the neighborhood.
University Park Homes for Sale
3. Westmoreland
Located in northwest Gainesville, this is another bustling neighborhood that boasts convenient access to all sorts of restaurants and local amenities. A mall and major big box stores are in the area as are plenty of gyms and churches. Outdoor recreation possibilities may be explored at spots such as the Split Rock Conservation Area with its pedestrian and bicycle trails and the Clear Lake Nature Park with its ancient oak trees.
Westmoreland mainly features single-family homes. While some date back to the 1950s, many of them were constructed in the 1980s. This means that you could find a charming bungalow, a sprawling ranch or a newly renovated home with all of the modern amenities.
Westmoreland Homes for Sale
4. Duckpond
If you prefer homes with an historic flair, then you've got to check out the real estate in the Duckpond neighborhood. Wandering here is a wonderful way to get a sense of what Gainesville was like before everything got modernized.
Located adjacent to downtown, you'll find plenty of opportunities for dining, shopping and entertainment when you live in Duckpond. However, the neighborhood itself is quiet and tranquil with lots of mature landscaping and old trees.
Single-family dwellings abound in the neighborhood, but you also may see some available townhouses. This is the community to choose if you've always wanted to live in a home that was built around the turn of the last century. Many properties were built between the 1910s and the 1950s, and you might even spot a listing or two for homes dating from the 19th century. Limited newer construction homes may be found as well.
Homes for Sale in Duckpond
5. Sugarfoot
Parents who are looking for a great place to raise kids will fall in love with Sugarfoot. Frequently described as friendly and quiet, this is one of Gainesville's safest neighborhoods while still being incredibly convenient thanks to the proximity of both I-75 and State Route 121.
Sugarfoot abuts the Clear Lake Nature Park on the west, providing wonderful opportunities for outdoor adventures. Good schools and low crime rates make this one of Gainesville's most desirable neighborhoods. However, this is a small area, which means that it's necessary to act fast if you find the perfect single-family home.
Sugarfoot Homes for Sale
6. Highland Court Manor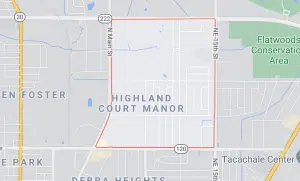 Located close to the Gainesville Regional Airport, the Ironwood Golf Club and the Flatwoods Conservation Area, this large neighborhood is convenient and well-situated. It's also quite affordable, so if you don't want to break your budget but still want a nice home, this may be the best place to live in Gainesville.
You'll find plenty of shopping and dining options in the neighborhood as well as single-family homes with mature landscaping and large, shady trees. Many of the homes were built in the 1960s and 1970s and they may provide new owners with an opportunity to renovate.
Highland Court Manor Homes for Sale
7. Pleasant Street Historic District
Recognized as the first residential district for Black families in Gainesville, this neighborhood was founded at the conclusion of the Civil War. Today, this is a United States historic district containing more than 250 historic buildings, many of which are open to the public. A wealth of banks, churches, restaurants, shops and green spaces are found in the Pleasant Street Historic District.
A few high-rise condominium properties are located in the neighborhood, but most of the available real estate is charming single-family homes. Many vintage dwellings are found in this district, but you'll also find some gorgeous new construction and residential land lots that are just waiting for the right family to build a home.
Pleasant Street Historic District Homes for Sale
8. Hazel Heights
With an excellent balance of convenience and affordability, Hazel Heights allows wonderful opportunities for outdoor recreation thanks to its proximity to Greentree Park and Hogtown Creek Headwaters Nature Park. The southern border of the neighborhood is alive with restaurants and retail shops, ranging from familiar chains to unique local spots.
Although the area mainly includes single-family homes, a few townhouses are scattered across the neighborhood. This tends to be an affordable place where many families buy their first home. You'll find a little bit of everything here, with some homes dating to the turn of the last century and others being new construction.
Hazel Heights Homes for Sale
[showcaseidx shortcode encountered an error]
9. Suburban Heights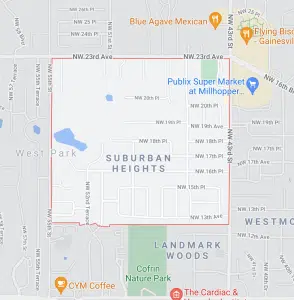 This neighborhood is for families who want true suburban surroundings while still being close to everything. Suburban Heights is loaded with botanical gardens and nature preserves. Cofrin Nature Park is next door, and there is an abundance of restaurants, shops and even a hospital. Commuters love the proximity to I-75.
First developed in the late 1960s, Suburban Heights features large lots and spacious homes. Many of the properties date from this era or slightly later. Nonetheless, it may be possible to find some real estate of a much more recent vintage.
Suburban Heights Homes for Sale
Contact Florida's Choice Realty
If you are interested in these or other desirable Gainesville neighborhoods, give Florida's Choice Realty a call at 352-857-9748 or fill the form below.