Florida is growing fast. As hopeful buyers look to become residents, many new communities are making the transition to the Sunshine state easier. St. Johns County is experiencing a bulk of that growth providing many new master planned communities with amenities for all ages.
To start things off, let's take a look at the nine best communities in St. Johns County. Then, give us a call so you can visit each of them in turn. The experts at Florida's Choice Realty are ready to help you get to know this fantastic corner of the world.
SilverLeaf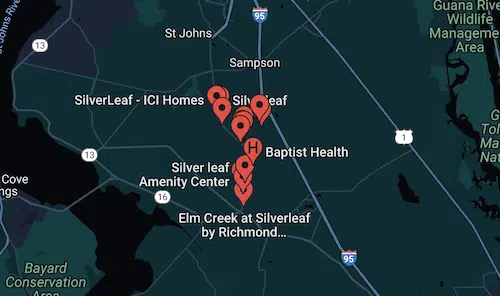 This master-planned community of new homes looks and feels more like an upscale resort than a housing development. It is located along St. Johns Parkway and consists of 11,000 acres. Of that space, zoning is approved for more than 16,000 housing units as well as almost three million square feet for commercial space and mixed use. Nearly 4,500 acres are set aside as untouched conservation land.
SilverLeaf is so large that it is made up of several neighborhoods. This means that whether you are looking for a large house or a small one, you can find it here. A wide range of price points and architectural styles ensures that there truly is something for everyone.
Developed by The Hutson Companies, SilverLeaf is built to exacting standards by only the most respected and trusted builders. Imagine being able to walk to the park or jog among native trees and plants without leaving your neighborhood. Several parks are scattered across the community, and many residents simply drive their golf cart to get to the amenity center. Relax by the pool, play pickleball or tennis or take the kids to the playground. It's all here at SilverLeaf.
Whether you choose a townhome at Brandon Lakes or a single-family home at Elm Creek, Johns Island, Silver Landing or elsewhere, chances are good that you will be delighted with your surroundings. The homes are gorgeous and the neighbors are friendly. Plus, everything that you could ever need or want is within easy walking or driving distance. The Northeast Florida Regional Airport is fewer than 20 miles away, and the Jacksonville International Airport is a mere 38 miles away. You'll find an abundance of golf courses and entertainment options too.
Beach and river access are available at spots like the Trout Creek Marina, Mickler's Landing Beach and Ponte Vedra Beach. Shop at Durbin Park Retail Center, St. Augustine Outlets or St. Johns Town Center.
With excellent schools, low crime rates and convenient access to highways, SilverLeaf is a winning community for many homebuyers.
Silverleaf Homes For Sale
Beacon Lake
Are you looking for a single-family home that boasts all the amenities and is on the water? If so, then Beacon Lake is the ideal place for you to put down roots.
Built around a 43-acre lake that is ideal for paddling, the Beacon Lake development consists of single-family homes with prices starting in the $400s. Adding to the incentives to buy a home here is the fact that the community boasts more than 350 acres of nature reserve. Families who want to have convenient access to services but still feel like they are surrounded by natural beauty will love the lifestyle at Beacon Lake.
The developers carefully designed Beacon Lake to make it a friendlier and more intimate community. Pocket parks dot the landscape. Some of these have swings, benches and fire pits. Playgrounds are everywhere, and there is even a community dog park. Everything is interconnected with sidewalks and pathways that make it a pleasure to take a stroll.
Beacon Lake is a community that focuses on the "Goldilocks zone." Everything about it is just right, which means that it's small enough so that you can really get to know your neighbors, yet large enough to have the amenities that you deserve.
Among those amenities are a splash park for the kids, a junior Olympic-sized swimming pool, a fun pool and a sand beach at the lake. The Lake House Amenity & Fitness Center is genuinely impressive with its tennis courts, event lawn, multipurpose sports field, dog park, bike racks, culinary studio and various paths. This is where you'll find fire pits and outdoor areas for dining and sitting as well as a card room, private meeting room and social room.
The fitness center also is located at the Lake House. Complete with a studio, the fitness center is the place to be for strength training, cardio, spinning bikes and more.
Of course, many people choose this community for the lake itself. Seating is placed at strategic points around the lake to make the most of the views. You can fish in the lake for largemouth bass or enjoy a paddle in your kayak or canoe. Beach volleyball is a favorite pastime too.
Homes in Beacon Lake are built by Dream Finders or Toll Brothers. Both build three to five bedroom single-family homes throughout the community. With upscale, thoughtful touches throughout, these properties are designed to be forever homes for modern families.
Beacon Lake Homes For Sale
Beachwalk Club
This St. Johns community boasts a beach club that's for members only. Filled with beautiful single-family homes, Beachwalk Club is ideal for families thanks to its amenities and beautiful beaches. The community circles around a 14-acre body of water known as Crystal Lagoon. This is where residents can swim, kayak and snorkel to their hearts' content.
The private clubhouse is another fantastic amenity. Including tennis courts, a fitness center, a swim-up bar and a restaurant, the clubhouse really is the center of life in this vibrant community.
The Beachwalk Club boasts nearly 240 homesites with a price range of $339,990 to $352,990, making it an affordable choice. Despite the accessibility of the community, you'll be delighted to find that it looks and feels like you are living at an upscale resort.
St. John's Town Center is nearby. This is an open-air shopping district featuring high-end retailers such as Louis Vuitton, Brooks Brothers, Coach, Free People, Madewell, Michael Kors, Tory Burch, Tiffany and many others. Also within the mall are plenty of opportunities to dine, drink and indulge in luxurious spa-style experiences.
Of course, the real attraction here is the Beachwalk Club itself. You can dine in the restaurant or spend lazy afternoons lying on the beach. Enjoy a drink at the swim-up bar when you get done with standup paddle boarding. Kids and thrill seekers will love the water slides, and the tennis courts are the ideal place to hone your skills. In the fitness center, you'll find a wide array of strength and cardio equipment to keep you in top shape.
With an outside putting green, a splash park and plenty of natural beauty, Beachwalk Club boasts idyllic surroundings. With convenient access to multiple highways, top-rated schools and many golf courses nearby, this is the perfect place to call home.
Beachwalk Homes for Sale
Durbin Crossing
If you've always wanted to live in a nature preserve, then Durbin Crossing is a community that you've got to know about. It is surrounded by hundreds of acres of scenic beauty, much of it set aside as nature preserves. You'll see lake views and stunning panoramas every day when you move in to Durbin Crossing.
This community is large enough to have two Amenity Centers. At both of these, a variety of social gatherings, events and activities are hosted on a regular basis. Thanks to the excellent St. Johns County schools, this is a wonderful place to raise a family. Plus, Durbin Crossing is centrally located within the county so that everything you need is within easy reach.
No matter what your stage in life, recreation is important to your health and well-being. Living at Durbin Crossing promotes a healthy lifestyle with its basketball courts and six tennis courts. Moreover, the well-equipped fitness centers are large, bright and provide everything you need to stay or get in shape.
The community further includes two playgrounds and an array of multi-purpose sports fields. Some of these facilities may be reserved for special events. A pair of outdoor swimming pools is open year round, though they may close down for thunder and lightning. Swim lessons are offered on-site, and there is even a swim team for kids and teens who want to compete.
Which beautiful single-family home in Durbin Crossing will catch your eye? Ranging from small to large, the properties here are certain to impress.
Durbin Crossing Homes For Sale
Shearwater
Known for its gorgeous pool complex, this is the place that the kids will want to move into today. Of course, parents love Shearwater too with its fabulous amenities, gorgeous natural surroundings and beautiful homes.
With prices ranging from the $300s to the $700s and builders including Lennar, Dream Finders Homes and David Weekley Homes, there truly is something for every family at Shearwater. As if the homes weren't enticement enough, this community further boasts a long list of world-class amenities. These include a lagoon, a pulse-pounding waterslide tower, an abundance of nature trails, tennis courts, a fitness center and much more.
Of course, if you settle in Shearwater, your kids will attend the respected schools in St. Johns and you'll find that shopping and a range of services are available within a convenient distance. The beach at St. Augustine is easy to get to, and so is the Southeast Intracoastal Waterway Park and downtown St. Augustine. Within 20 minutes, you could be in downtown Jacksonville with all of its museums, sporting events, theatrical performances, international airport, restaurants and more.
Your life at Shearwater will be tranquil, but there will always be something to do. For instance, you might put your craft in Trout Creek at the Kayak Launch or spend a fun afternoon at the Outpost Adventure Park. Listen to birdsong as you walk the trails or plan a party at the open-air pavilion. The Outpost has plenty to entertain the kids with a zipline and fully equipped playground.
Swimming is a popular activity for the whole family at Shearwater. Build up your strength and endurance at the multi-lane lap pool or laze away the hours at the resort-style lagoon pool. This is a popular choice for the whole family as the Lagoon Pool features a lazy river in addition to a waterslide that's three stories tall. Or, you could sit back in a lounge chair and simply enjoy the sun and lush landscaping.
Visit the Kayak Club when you need a quiet place to work. The Hub WiFi Café is perfect for this purpose. Space is available to reserve for an event, and several planned activities take place here each month. The tennis courts and outdoor fun spaces are an easy walk away.
Whether you are gathering with friends and neighbors in the Club Room or getting productive in the Conference Room, you'll always be glad that you chose Shearwater as your home. The incredibly well-equipped fitness center is just another reason why you wouldn't trade this community for anywhere else.
With a wide selection of townhomes and single-family dwellings available, Shearwater is a dream come true for many Florida families.
Shearwater Homes for Sale
RiverTown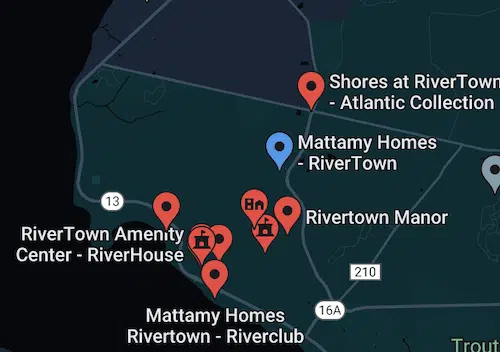 Located right on the St. Johns River, there is no other community that is quite like this one. You'll enjoy the unparalleled beauty of a natural setting on the banks of the river with the same outstanding schools and access to highways. Plus, both St. Augustine and Jacksonville are conveniently accessible from RiverTown.
The waterfront setting in this community is nothing short of magical, but the developers really outdid themselves when it comes to fashioning amenities. Stop over at the RiverClub to launch your kayak, enjoy numerous nature trails, take your kids to the playground or enjoy a concert at the waterfront amphitheater. There's an infinity edge pool here too.
Pet parents will love taking their fur babies to the dog park, and numerous neighborhood parks for playing, picnicking and relaxing are available too. RiverTown Fields hosts many youth athletic leagues for soccer, baseball, softball and more.
Several neighborhoods are included within RiverTown. Each one has a unique personality, but you'll enjoy the same quality of life regardless of which one you select. Views of lakes, nature preserves and woodlands abound, and it seems as though miles of trails are waiting for you right outside your front door.
You'll have a wealth of home designs from which to choose, including both one- and two-story models. While some designs are contemporary, others rely on classic components for a timeless look. Choose the neighborhood that is ideal for you. Some lots are located right on the river, and you'll have your choice of small to large homesites. There's even one neighborhood, called Watersong, that's designed especially for the 55+ community.
RiverTown Homes for Sale
Nocatee
This Ponte Vedra community is an award winner, and it's pretty easy to see why. In addition to blending several neighborhoods, it provides access to shopping, recreation, dining, parks, schools, offices and much more. If you're looking for a community that has convenient access to golf courses, the beach, major airports and the downtown neighborhoods of both St. Augustine and Jacksonville, look no further.
The lifestyle at Nocatee is simply fantastic. Calling its development style "Smart Growth," Nocatee successfully finds a balance between preserving nature and offering an outstanding place to live.
Accordingly, there are several parks that offer greenspaces, places to play, pools and much more. For example, Community Park features everything from jogging paths and nature trails to gorgeous lakes. Tennis courts and soccer fields abound, and four-legged family members adore the dog park. Adjacent to Community Park is Nocatee Station Field, which is the site of annual festivals and a monthly farmers market. Nocatee Spray Park and Nocatee Splash Water Park are here too. If you like lazy rivers, waterslides, ziplines, water cannons and swimming pools, these are the places to be.
Nocatee is an ideal choice for people who are outdoor enthusiasts and love to lead an active lifestyle. Fitness trails are found throughout the community, and you'll definitely want to make use of the Kayak Launch. Visit Nocatee's Preserve to access Nocatee Landing with its open-air pavilion and convenient launch for non-motorized water vehicles. Work up a sweat at the 5,000 square foot Fitness Club. Enjoy group exercise classes or work with a personal trainer.
This is an active community, so be certain to be on the lookout for the packed monthly event calendar. You definitely don't want to miss out.
This master-planned community boasts several neighborhoods, each of which has a slightly different starting price point. If you're on a tight budget, consider the more affordable options at Del Webb Nocatee and West End at Town Center, both with prices starting in the $400s. Floor plans at Franklin Square at Crosswater and Palm Crest at Seabrook begin in the $600s while Settler's Landing at Nocatee starts out in the low $700s. If you're looking for something larger and more opulent, choose Palmetto Cove, The Vista at Twenty Mile or River Landing at Twenty Mile, with prices ranging from the mid $800s up to $1.6 million.
Several new neighborhoods are due to debut in the coming years at Nocatee. Don't miss your chance to get in on the ground floor.
Nocatee Homes for Sale
Julington Creek Plantation
The amenities at this community are absolutely fabulous. An Aquatic Complex includes a family pool that boasts a gorgeous waterfall. The competition pool is the perfect place for a workout or a race. The Recreation Center is where you can play tennis, rent a banquet room or work up a sweat in the fitness center.
The community also features a Sportsplex that boasts a skate park, basketball courts and facilities for a variety of clinics and lessons. A full menu of events, programs and workshops is offered to all residents. There is even childcare available for busy families and swim teams for kids and teens.
Properties in this community are townhouses or single-family homes. Generous square footage, private swimming pools and a wide variety of home styles are available. From small and cozy to sprawling and luxurious, there is a price point for every buyer in Julington Creek Plantation.
Julington Creek Plantation Homes for Sale
TrailMark
With a philosophy known as "Recreation-First Living," TrailMark promises outstanding quality of life for its residents. These new homes are priced anywhere from the $400s to the $900s and are built by diverse companies such as Dream Finders, Drees, Lennar, MasterCraft and Richmond American.
The fabulous amenities at TrailMark include a resort-style swimming pool that features a beach entry as well as opportunities to access Six Mile Creek from a boardwalk launch. An expansive trail system makes it easy to jog, walk or cycle for miles. There's a dog park for four-legged friends while the lakeside Camp House is a great place for a BBQ or reunion. Take your kids to the playground or play a game of sand volleyball for the afternoon. Other sport courts include basketball, four square and pickleball. State-of-the-art gym equipment is located in the Fitness Center, so no additional gym membership is necessary.
If you are 55 or older, be sure to take a look at the properties found at Reverie at TrailMark. Otherwise, peruse the more than 30 innovative floor plans, boasting all sorts of modern design details, that are available in the other neighborhoods.
TrailMark Homes for Sale
Talk to Florida's Choice Realty First
When you are ready to find your dream home in St. Johns County, make sure that Florida's Choice Realty is the one that you call first. Let our seasoned Realtors introduce you to this incredible place that you can call home.